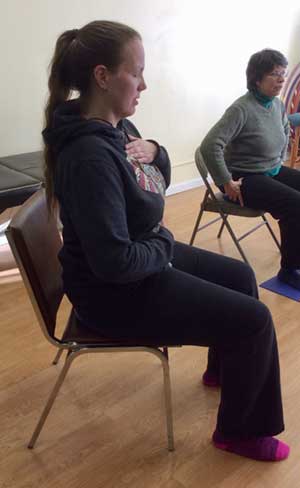 Studying CMI follows two tracks, personal training for the layperson and professional training for movement professionals. Since the foundation for each track is the six Core Movement Pathways, the tracks communicate and intersect at many points.
Personal Training
To learn CMI, the layperson becomes a client of a certified CMI practitioner by taking a class or seeking individual treatment sessions. In either case the client receives both instruction in the CMI Pathways and related exercise-lessons, and hands-on guidance from the CMI practitioner. During individual sessions the practitioner may also include treatments from their primary modality, such as massage, joint mobilization, myofascial release, and taping to name a few. To study CMI in greater depth, experienced clients may participate in portions of the CMI practitioner training seminars. To find a CMI Practitioner in your area, please go to the home page and click on the Practitioners link.
Professional Training
Movement professionals who study CMI come from many disciplines including massage, physical and occupational therapy; various martial arts forms and; movement and body work systems such as Body Mapping, Feldenkrais Method and Alexander Technique.
Certification for CMI practitioners occurs at two levels. To attain certification practitioners must meet a set of competencies. During study for Level 1 certification, practitioners learn the CMI Core Movement Pathways in their own body and how to teach them to clients. Level 2 certification requires applying the CMI Pathways and hands-on techniques to ameliorate specific conditions and injuries.
Learning CMI takes place in a series of six training seminars of 10 hours each. Seminars includes didactic instruction, movement practice and practice of hands-on techniques. The set of six seminars repeats each academic year. Students are highly encouraged to take each seminar at least twice. Additional classes deal with specific topics such as client evaluation and teaching techniques. There are one or two opportunities each year to study with founder Josef DellaGrotte.
Advanced study focuses on using CMI to address specific musculoskeletal issues and diagnoses, and applying CMI to the movement needs of specific populations such as dancers, musicians and athletes. Experienced students also have opportunities to study in Italy with our Italian CMI colleagues. Please go to this page for more information about the certification program.